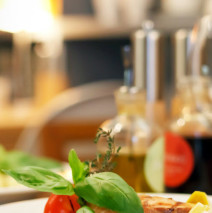 our menu offers ordinary foods with extraordinary flavors! we serve steak and seafood, and other simple, fresh-made food items, complemented by chef tyler smith's remarkable sauces and presentations that are inspired by his french and italian training.  our menu changes seasonally to include fresh seasonal vegetables and local fare, and includes vegetarian and several gluten free options. and we do it in a 100 year old house – an ordinary place that yields extraordinary experiences. 
when you come in, your table is your table for the entire evening. we do not care about turning tables; we care about your experience. instead of kind of pushing you to finish in an hour or less, we hope you will stay for two or more hours and really take the time to enjoy the special life experience of dining and conversing with good friends and family. by the way – this is all part of the philosophy of the international slow food movement, which we enthusiastically support and are a part of.
the cellar is also a place where our guests enjoy live musical entertainment 3-5 nights per week.
live music is a tradition that started a few years ago with owner scott and his son bryan performing in the lounge before the patio was enclosed and heated. today, qwahitas (scott and bryan, along with bassist brad beckwith and drummer richard hajek) still perform regularly to a filled patio. and we have groups and individuals perform from all over the country on a regular basis, as well as having our own house jazz pianist – bedowin buddah. check out our calendar of events to see who is performing.
the cellar is the place for casual fine dining in idaho falls.  relax and enjoy fine food,  wine, martinis, and regular live music  in the welcoming atmosphere of our family-owned business.